Capacitive electrodes type EK, EL and VEGACAP are used for reliable continuous level measurement or level detection of solids and liquids based on the capacitive principle.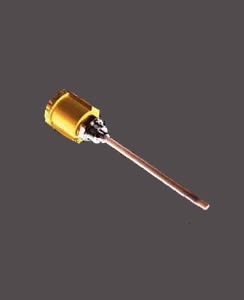 Operating Principle:
Capacitive
Features:
Reliable Repeatable Measurement
Integral compensation of the standing capacitance
Processing even of smallest capacitance changes
Hysteresis free even with very adhesive, conductive products
Level measurement even with varying product moisture (up to 15 %)
Easy Set-up
without adjustment and/or filling
On electrode EL – Signal conditioning instrument in the control room – PC via adjustment software VVO – HART ® -handheld – Directly on electronics (4 … 20 mA)
Simple to Service
Test switch for level simulation
Plug-in standard electronics
Application:
They can be used in applications where levels are detected as a two wire "ON-OFF"  signal (4mA for OFF & 20mA for ON) in any installation position (vertically from top and bottom or horizontally). Whether in foods, chemicals, wastewater, stone crushers, cement or plastic production, hey ensure a continuous production process in tanks, silos and vessels anywhere within the process.
Specification:
Economic Installation
4 … 20 mA "ON-OFF" compact electronics (loop powered)
Universal supply voltages 20 … 250 V AC/DC
Over voltage protection as plug module integral or add-on
For Ex-systems no potential equalization along the intrinsically safe line required
Rugged Construction
Resistant electrode insulation
Pressure ranges from -1 … +63 bar
Operating temperatures from -50°C … +400°C