THERMOCONT field device incorporating Pt 100 sensor is
2-wire temperature transmitter with 4 … 20 mA analogue
output or transmitter/indicator if equipped with plug in
display. Intrinsically safe version of each model is available
in ordinary or flame-proof housing.
The measured temperature can also be transmitted by Hart
communication.
Intelligent electronics and HART communication provides
for remote programming, error monitoring and indication.
The instrument is suitable mainly for temperature
measurement of liquids in tanks and pipes and free flowing
or lumpy solids, but temperature gauge for rooms is also
available.
The PFA coated stainless steel probe makes measurement
of very aggressive materials also possible.
As special version of the unit a remote transmitter is also
available which can be connected to a standard Pt 100
sensor through a simple 4-wire cable.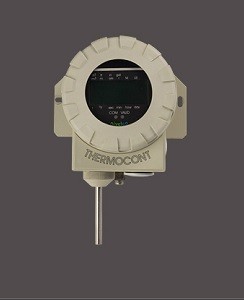 Operating Principle:
Temperature Indicator Transmitter
Features:
2-wire compact temperature indicator, transmitter
Integral Pt 100 probe
Plug-in type indicator and programming unit
Measurement range: -58 °F .. +1100 °F
HART communication
Probe length upto 10 feet
Aluminium or plastic housing
Fully programmable
Heavy duty field mountable housing
Explosion-proof models
Application:
Normal and explosive mediums
Temperature indication and transmission
Signal transmission to large distances
Specification:
Power supply: 10…36 V DC
Ambient temperature: -40 °F .. +158 °F
Medium temperature: -58 °F .. +1100 °F
Pressure: max. 363 psig
Output: 4…20 mA, HART
Process connection: M20x1.5, 1/2", flange
Protection: IP 65 ATEX II 2 G EEx d IIB T6-T1 II 2(1) G EEx d ia IIB T6-T1 II 1/2 G EEx d ia IIB T6-T1 II 2(1) G EEx ia IIC T6-T1 II 1/2 G EEx ia IIC T6-T1