The series 8000 pressure transmitter from  Klay Instruments is all stainless steel and made for all industries. All transmitters are fully temperature compensated and internally adjustable on zero and span. The output is 4-20 mA / 2-wire. This pressure transmitter is very suitable for applications where a flush diaphragm is needed. For example on pulp and starch. The series 8000 transmitter has a strong flush diaphragm and a small process connection like 1"BSP. For the Pulp & paper industry special process connections are available. Examples are a  small weld-on nipple with diameter 33mm equal to PMC or the PASVE connection.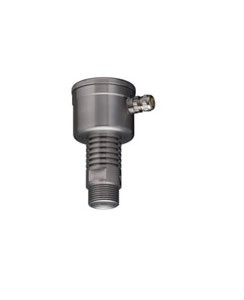 Operating Principle:
Pressure
Features:
Stainless steel housing
Overall accuracy : 0,2% of adjusted span
Adjustment : Zero and span internally
Measuring ranges : 0,1 bar to 50 bar
Temperature sensitivity : +/- 0,015%/K
Strong flush diaphragm
Many process connections available
ATEX II 1G Ex ia IIC T4 Ga
SIL2 certified (option)
Application:
For pulp and paper industry.
Specification:
Measuring ranges : 0,1 bar to 50 bar
Output signal : 4-20 mA, 2-wire
Adjustment : Zero and span internally
Overall accuracy : 0,2% of adjusted span
Power supply : 13 to 40 VDC
Electrical connection : PG9 / 1/2´´ NPT / M20
External load (max.) : 550 Ohms/24 V to 1250 Ohms/40 VDC
Protection grade : IP66 Process temperature : –20°C to +80°C
Ambient temperature : –20°C to +65°C
Temperature sensitivity : +/- 0,015%/K
Process connections : See Ordering Code
Wetted parts : AISI 316 (standard) other materials on request
Electronic housing : AISI 304 (standard) other materials on request
Zero elevation/suppression available (specify)
Vacuum and compound ranges available (specify)