Klay Instruments manufactures a wide range of pressure and hydrostatic level transmitters for the Food & dairy industry.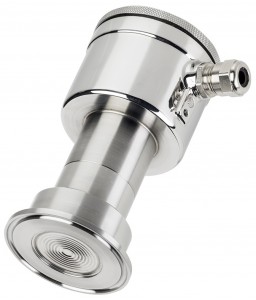 Key features are the Stainless Steel electronics housing and the strong flush diaphragms with Active Temperature compensation, according to the Klay Flush Diaphragm technology.
We offer two different transmitter lines:
Series 8000-SAN. Accuracy 0.2%. Zero and span internally adjustable.
Series 2000-SAN. Accuracy 0.1% 'Intelligent' series. and easy calibration without test pressure by 3 pushbuttons and a display.
Series 4000-SAN. Accuracy 0.075%. All Klay series offer the following features:
Stainless Steel electronics housing
Strong and polished flush diaphragms
Minimum oil filling
Active Temperature compensation
More than 40 hygienic process connections
The available ranges are from 0 -40 mbar up to 0 – 1000 bar with an output 4-20 mA.
On the series 2000-SAN and 4000-SAN the HART protocol is available.
For level applications a tank linearization can be programmed very easy in both the series 2000-SAN and 4000-SAN.
All Klay transmitters are CIP and SIP cleanable and are certified according to 3A and EHEDG.