A microprocessor based pressure transmitter from Klay Instruments.  All stainless steel and for all industries. The instrument is fully temperature compensated.
Easy programming with 3 push buttons and display without test pressure. The series 2000 pressure transmitter is availabe with 4-20mA and option HART protocol.
This pressure transmitter is very suitable for applications where a flush diaphragm is needed. For example on pulp and starch. The series 2000 transmitters have a strong flush diaphragm and a small process connection like 1″BSP.
For the Pulp & paper industry special process connections are available. Examples are a  small weld-on nipple with diameter 33mm equal to PMC or the PASVE connection.
** The latest addition to the 2000-SAN series is the 'intelligent' tank level transmitters (shell types) with extended flush mounted diaphragms. These instruments are manufactured specially for the U.S. food & dairy industries, and they are used in all insulated storage silos in U.S. food & dairy plants. All process connections from US competitors are available. Please contact us or check the new brochure for more information.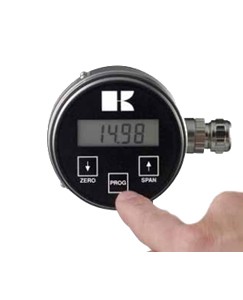 Operating Principle:
Pressure
Features:
Stainless Steel housing
Accuracy 0.1% from adjusted span
Easy adjustable without test pressure by 3 push buttons and local display
Protection against pressure spikes
Adjustable damping 0….25 sec
Strong flush diaphragms
HART protocol
ATEX II 1G Ex ia IIC T4 and/or
II 1D Ex ia IIIC T100 ̊ C Da IP6X
SIL2 certified (option)
Application:
For all industry.