The VLM 200, ASTECH offers anexceptionally robust and dependable sensor, which has been specifically tailored to the requirements of industrial use. Regardless of material, the VLM 200 measures lengths and speeds without contact and its interfaces allow it to be integrated optimally to automation and quality maintenance processes in many branches of industry.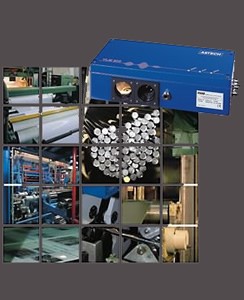 Operating Principle:
Non-contact measuring of length & speed
Features:
Modern semiconductor sensor A CCD chip, an optical semiconductor sensor, lies at the heart of the VLM 200. As an optical grid, it is operated according to a differential system. The sensor detects the movement of material and generates a frequency proportional to the speed through the grid modulation. This enables the sensor to establish speed and length. It also has a halogen light source for lighting the object to be measured. The measuring system is unaffected by changes in surface properties and any foreign light source is disregarded. Robust and precise The VLM 200's robust construction allows it to be operated in rugged industrial environments and also enables it to measure speed and lengths in a wide range of processes, leading to exactness and a high measuring dynamic. Less servicing Its contact-free measuring system allows the VLM 200 to operate not only more precisely than other existing systems, but also without wearing out, as the absence of friction reduces the need for servicing. Damaging or dirtying of the measuring surface do not arise at all. Flexible and multi-sided The VLM 200 operates autonomously; sensor, light source, signal processing and power supply are all integrated in the unit. The user is guaranteed highly flexible operation by the digital system concept, which places a wide range of functions at his disposal. Via its interfaces, the VLM 200 can easily be hooked up to existing processes, drives or data acquisition. It is easy to operate and calibrate. Varied Options Multiple expansion options make the VLM 200 many sided.
Counter and indicators
analog output
digital interface
window blower
Laser light barrier
real-time clock
mounting equipment
direction recognition
Advantages
Contact-free
no slippage or wearing out
unaffected by material
robust and precise
economical
unaffected by dirt
many-sided interfaces
easy installation
Application:
Metal, paper, cardboard, synthetic materials, wood, rubber.
Belts, pipes, strips, plates, foils, profiles, wire, cables.
Cutting, positioning, localizing, monitoring, quality maintenance, dosing.
Specification:
| | |
| --- | --- |
| Speed measuring range | up to 3000 m/min * |
| different measuring distances | 170, 185, 240, 330 mm * |
| Measuring deviation as per DIN 1318 | 0,1% * |
| Detector | CCD line |
| Light source | Halogen light |
| Power supply | 230V/AC, optional 115V/AC or 24V/DC |
| Power requirement | < 50W |
| Temperature range | 0 to 50 °C |
| Protection type | IP 65 |
| External dimensions | 360 mm x 160 mm x 90 mm* |