The Economic Solution for Bulk Solids Measurement
Level measurement of bulk solids
The radar sensor VEGAPULS 67 is used everywhere where the levels of widely different bulk solids have to be continuously monitored in measuring ranges up to 15 m. The mechanical configuration of the instrument as well as its electronics are optimised for this application under normal process conditions. The radar instrument operates with high frequency sensors in the K band and stands out due to its excellent signal focusing. Silo fittings or buildup on the container wall thus have no influence on the high-precision measuring result. The instrument is equipped with a sensor especially adapted to the application according to the type of product and its repose behaviour. VEGAPULS 67 is, by the way, the "little brother" of VEGAPULS 68, the specialist for bulk solids measurement under extremely difficult process conditions.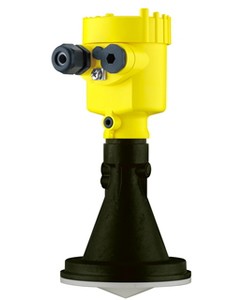 Operating Principle:
Radar
Features:
Non-contact measurement
High plant availability, because wear and maintenance-free
Reliable measurement independent of vapour, dust and noise
Application:
The radar level sensor VEGAPULS 67 is used for cost-effective level measurement of bulk solids. It continuously delivers reliable measurement data on the levels of bulk solids in silos up to 15 m high as well as in crushers or small containers. It is the economical solution for simple bulk solids measurement in the food industry as well as in plastics processing, in steelmaking and in the construction industry. VEGAPULS 67 is actually the "little brother" of VEGAPULS 68, the radar level sensor for bulk solids measurement under difficult process conditions.
Buffer vessel
Blending bed
Belt transfer station
Quarry
Cullet silos in scrap glass recycling
Granulate silos in plastic recycling
Ash disposal via the deslagger
Additives
Bread – variety in form and taste
Mixing plants
Conveyor transfer points
Stockpile monitoring
Rock crusher in the quarry
Belt transfer point
Starch liquefaction
Specification:
Measuring range: up to 15 m
Process fitting: mounting strap compression flanges from DN 80, 3″
Process temperature: -40 … +80 °C
Process pressure: -1 … +2 bar (-100 … +200 kPa)
Measurement accuracy: +/- 2 mm
SIL qualification: optionally up to SIL2