Turbulent Surfaces under Control
Level measurement of liquids – even with strongly agitated media
The radar sensor VEGAPULS 66 is the radar instrument of choice when the level of a turbulent liquid has to be measured: it delivers reliable, exact measuring results in spite of foam, buildup or condensate. Even if the medium is in violent motion, as is often the case in industrial processes, the level measuring probe transmits the level unfazed. The instrument can even withstand fluctuating pressures up to 160 bar and temperatures between -60° and +400°C.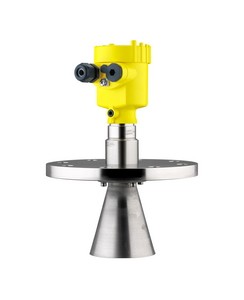 Operating Principle:
Radar
Features:
Non-contact measurement
High plant availability, because wear and maintenance-free
Reliable measurement independent of process conditions
Application:
The application areas for the radar level instrument VEGAPULS 66, which can handle the toughest process conditions, are found mainly in the chemical industry, in environmental and recycling technology and in the petrochemical sector. The contactlessly measuring sensor is used as a level instrument in steam drums (process heat generation) as well as in mud pits, process vessels and storage tanks. Examples of the radar level instrument in practical use.
Steam generation for process heat
Liquid gas tanks
Service and ballast water tanks
Cavities
Specification:
Measuring range: up to 35 m
Process fitting: flanges up to DN 50, 2″
Process temperature: -60 … +400 °C
Process pressure: -1 … +160 bar (-100 … +16000 kPa)
Measurement accuracy: +/- 8 mm
SIL qualification: optionally up to SIL2