Introducing the VEGAPULS 64:
HiTECH is proud to now carry the new radar from VEGA: the VEGAPULS 64. This is the first radar level sensor for liquids that operates at a frequency of 80 GHz. This new radar sensor is built for any size container, no matter how small. Due to the 80 GHz frequency, VEGAPULS 64 measurements are accurate and focused. It is not compromised by heating coils, other internal installations, condensation, or other buildup on the vessel walls because the 80 GHz radar beam only reflects from the product surface.
• Maintenance-free operation thanks to non-contact measuring principle
• High plant availability, because wear and maintenance free
• Exact measuring results independent of process conditions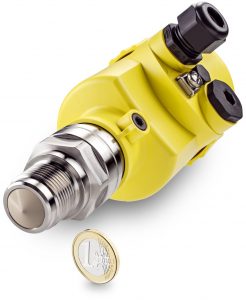 Operating Principle:
RADAR
Features:
The sensor emits a continuous radar signal through the antenna. The
emitted signal is reflected by the medium and received as an echo by
the antenna.
The frequency difference between the emitted and received signal
is proportional to the distance and hence to the filling height. The
determined filling height is converted into a respective output signal and
outputted as measured value.
Application:
VEGAPULS 64 is a radar sensor for continuous level measurement of
liquids.
The small process fittings offer particular advantages in small tanks or
tight mounting spaces. The very good signal focusing ensures the use
in vessels with many installations such as stirrers and heating spirals.
Specification:
Measuring range up to 30 m (98.43 ft)
Deviation ±2 mm
Process fitting Thread from G¾, ¾NPT, flanges from DN 50, 2″, mounting strap, adapter flanges from DN 100, 4″
Process pressure -1 … 20 bar (-100 … 2000 kPa/- 14.5 … 290.1 psig)
Process temperature -40 … +200 °C (-40 … +392 °F)
Ambient, storage and transport temperature -40 … +80 °C (-40 … +176 °F)
Operating voltage 12 … 35 V DC