Bulk solids measurement at 79 GHz
The VEGAPULS 69 provides accurate level measurement of bulk solids at distances up to 120 meters. This is possible because of its 79 GHz frequency. Its focused, reliable 79 GHz frequency ignores distractions like internal installations & buildup on the vessel wall, much like the VEGAPULS 64 does for liquids. As a result, the VEGAPULS 69 is more precise than other level measurement systems that operate at lower frequencies.
Maintenance-free operation thanks to non-contact measuring principle
High plant availability, because wear and maintenance free
Reliable measurement independent of steam, dust and noise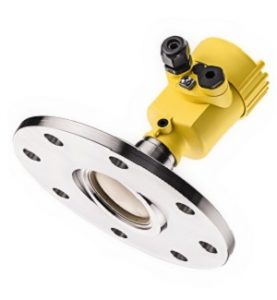 Operating Principle:
RADAR
Features:
The sensor emits a continuous radar signal through the antenna. The
emitted signal is reflected by the medium and received as echo by the
antenna.
The frequency difference between the emitted and received signal
is proportional to the distance and hence to the filling height. The
determined filling height is converted into a respective output signal and
outputted as measured value.
Application:
The VEGAPULS 69 is a sensor for continuous measurement of bulk
solids under different process conditions. The sensor is ideal for level
measurement in very high silos, large bunkers and segmented vessels.
The very good signal focussing ensures a simple setup and a reliable
measurement.
The VEGAPULS 69 can be equipped with an encapsulated plastic
antenna or a lens antenna integrated in the metal flange. Due to this, an
optimum adaptation to different applications is possible.
Specification:
Measuring range up to 120 m (393.7 ft)
Deviation ±5 mm
Process fitting Mounting strap, flanges from DN 80, 3″
Process pressure -1 … 3 bar (-100 … 300 kPa/- 14.5 … 43.5 psig)
Process temperature -40 … +200 °C (-40 … +392 °F)
Ambient, storage and transport temperature -40 … +80 °C (-40 … +176 °F)
Operating voltage Ʋ
Version for low voltage 9.6 … 48 V DC, 20 … 42 V AC, 50/60 Hz Ʋ Version for mains voltage 90 … 253 V AC, 50/60 Hz