A Tough Instrument for Tough Environments

Level measurement of bulk solids

Bulk solids, which vary widely in their density, form and features, confront the measuring instruments in industrial production processes with widely different challenges: powders often generate huge clouds of dust, while coarse, heavy bulk solids cause tremors and noise when being filled into a container from a great height. With VEGAPULS 68, level measurement in bulk solids is largely independent of process conditions. Due to optimized VEGA radar technology, the sensor can evaluate signals 1,000 times smaller than those conventional radar instruments can pick up. This high sensitivity allows a measuring range of up to 75 m even in products with bad reflective properties.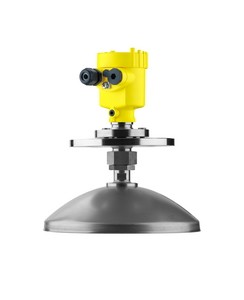 Operating Principle:
Radar
Features:
Non-contact measurement
High plant availability, because wear and maintenance-free
Reliable measurement independent of vapour, dust and noise
Application:
VEGAPULS 68 is the level measuring transducer for extreme bulk solids applications in silos of all kinds. Continuous monitoring of bulk solids with VEGAPULS 68 is largely independent of process conditions such as high temperatures or dusty environment, e.g. in coal handling systems in power plants or in storage facilities for building materials such as clinker or cement. Level measuring transducer VEGAPULS 68 – for level monitoring of bulk solids in all industries:
Solids and powders
Fuel
Storage of wood pellets
Pumped storage power plant
Storage of solid materials
Fuels
Cement silo
Clinker silo
Clinker cooler
Aggregates and raw meal
Blending bed
Granulate silos in plastic recycling
Incinerator
Liquefied gas
Aluminium smelting
Blast furnace
Steel production
Mining of ore
Food ingredients
Ready asphalt
Fine lime silo
Lime kiln
Buffer and production silos
Large silos for stocking
Storage of bulk solids
Digestion tower
Lime and fly ash silo
Coal bunker in a power station
Bleaching process
Wood chip silo
Specification:
Measuring range: up to 75 m
Process fitting: thread from G1½, 1½ NPT flanges from DN 50, 2″
Process temperature: -200 … +450 °C
Process pressure: -1 … +160 bar (-100 … +16000 kPa)
Measurement accuracy: +/- 2 mm
SIL qualification: optionally up to SIL2