The VEGAPULS 61 radar sensor is a continuous level measurement for liquids under simple process conditions. The VEGAPULS 61 is an economical solution through its simple and versatile mounting possibilities. The encapsulated antenna system ensures a maintenance-free operation.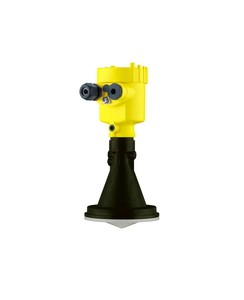 Operating Principle:
Radar
Features:
The version with encapsulated antenna system is particularly suitable for level measurement of aggressive liquids in small vessels. The version with plastic horn antenna is particularly suitable for flow measurement in open flumes or gauge measurement in waters.
Application:
The radar gauge VEGAPULS 61 is in use everywhere where the level of liquids in tanks has to be measured continuously and contactlessly. Application possibilities for radar gauges can be found in almost all areas of industry. Sewage treatment plants and water purification plants in particular, but also other environmental engineering facilities as well as power generating stations now rely on cost-effective radar sensors for continuous level measurement.
Storage of base and finished products
Auxiliary materials
Mud shaker
Effluent tank (Open Drain)
Chocolate production
Dosing and precipitation station
Corrosive liquids in small vessels under easy process conditions
Specification:
Measuring range:up to 35 m
Process fitting: thread G1½, 1½ NPT mounting strap compression flanges from DN 80, 3″
Process temperature: -40 … +80 °C
Process pressure: -1 … +3 bar (-100 … +300 kPa)
Measuring precision: +/- 2 mm
SIL qualification: optionally up to SIL2