TES1 Series is a single module which is made of high performance ingot to achieve superior cooling performance and 70ºC or larger delta T max, designed for superior heating and cooling applications.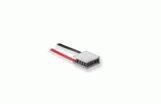 Operating Principle:
Heating & Cooling
Features:
No moving parts, no noise and solid state.
Compact structure, small size, and light weight.
Environmental friendly.
RoHS compliant.
Precise temperature control.
Exceptionally reliable in quality and high performance.
Application:
Food and beverage service refrigerator
Portable cooler box for cars
Liquid cooling
Temperature stabilizer
CPU cooler and scientific instrument
Photonic and medical systems