The TEC2 series is a multistage module designed for greater temperature differential cooling. Good for cooling and heating up to 100V applications.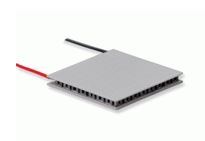 Operating Principle:
Cooling & Heating
Features:
High temperature differential.
No moving parts, no noise and solid state.
Compact structure, small size and light weight.
Environmental friendly.
RoHS compliant.
Precise temperature control.
Exceptionally reliable in quality, high performance.
Application:
Infrared (IR) Sensors
CCD Sensor
Gas Analyzers
Calibration Equipment
CPU cooler and scientific instrument
Photonic and medical systems
Guidance Systems