Feature Rich and Flexible The ProVu® digital panel meter boasts specifications and functionality that clearly make it one of the most advanced process meters available. Its dual-line 6-digit display (999,999), advanced math functions, function keys, Modbus RTU serial communications, and optional expansion modules are only a few of the features found on the ProVu PD6000.
FRONT PANEL DISPLAY
PRECISE, ACCURATE, AND MORE INFORMATIVE ProVu's large 0.6″ upper display provides a highly accurate and precise 6-digit view of the process measurement. Its 24-bit A/D is accurate to ± 0.03% of calibrated span ±1 count. Configurable The upper display can be programmed to indicate PV, maximum (peak), minimum (valley), alternating maximum/minimum, one of eight alarm set points, or Modbus input. The lower display can also be configured to display engineering units, set points, user defined legends, or simply turned off.
Optional SunBright Display Models
ProVu's SunBright display models have an extraordinarily bright LED display. They are perfect for applications where the meter is in direct sunlight or in applications where visibility may be impaired by smoke, fog, dust, or distance. There are 8 user selectable intensity levels to choose from on all ProVu models. This option is available on all ProVu models.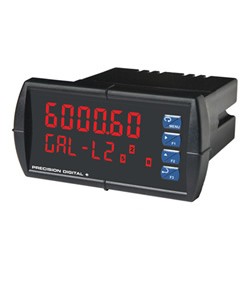 Operating Principle:
Dual Line 6 Digit Process Meter
Features:
0-20 mA, 4-20 mA, 0-5 V, 1-5 V, and ±10 V Inputs
NEMA 4X, IP65 Front
Universal 85-265 VAC or 12/24 VDC Input Power
Large Dual-Line 6-Digit Display, 0.60″ & 0.46″
Dual-Scale for Level Applications – Single Input
Sunlight Readable Display Models
Isolated 24 VDC @ 200 mA Transmitter Power Supply
Math Functions for Flow & Round Horizontal Tanks
Programmable Displays & Function Keys
32-Point, Square Root, or Exponential Linearization
Multi-Pump Alternation Control
2 or 4 Relays + Isolated 4-20 mA Output Options
External 4-Relay & Digital I/O Expansion Modules
RS-232, RS-485 Serial Communication Options
Modbus® RTU Communication Protocol Standard