The MWS-MT-1 type Micro-Tracker has been developed for product tracking in the hot line process. The unit consists of a controller, antenna, and reflector.
The MWS-MT-1 is an FM - CW method range finder.
The MWS-MT-1 emits microwaves towards the reflector in order to measure the reflection from it.
When a slab interrupts the beam between the antenna and the reflector, the reflection will not be received resulting in the slab presence signal being output.
The sensor can be installed either on a diagonal or horizontal axis.
Because of the digital detection, this will not be affected by vapor, water running on the slab and/or water spray.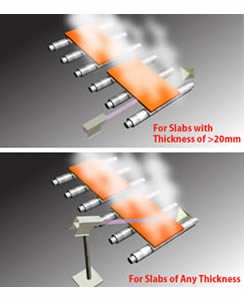 Operating Principle:
CW - (Radar)
Features:
Penetrates Steam
50msec. High Speed Response
Application:
For product tracking in the hot line process.