The Hydrobar "S" is a microprocessor based submersible level transmitter for top mounting, with a local display and easy adjustment by three push buttons.
Besides the level, the display can also indicate the process temperature. A tank linearisation and a 4-20 mA current simulation can be done.
The Hydrobar "S" is available with HART Protocol and can be adjusted locally and by HHT or PC with special Klay software. Mounting can be done by wall mounting bracket, Flange or a threaded Connection G1½"or G2").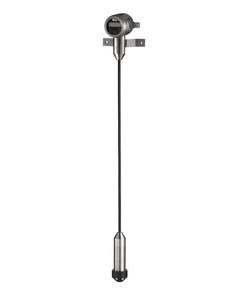 Operating Principle:
Microprocessor Based Submersible
Features:
Microprocessor based
Easy calibration without
test pressure by 3 push buttons
Accuracy 0.1%
4-20 mA and HART
Protocol
All Stainless design
Wide rangeability
Local Display
Adjustable damping
Application:
The 2000-Hydrobar submersible level transmitters can be used in fluids, like: water, waste water, pulp, mud, chemicals etc.
For the following industries: water and waste water industry, marine / shipbuilding, pulp and paper, others
Specification:
Accuracy : 0,1% of adjusted span
Measuring ranges : 0,04 bar to 0-4 bar
Output signal : 4 – 20 mA / 2-wire
HART® protocol (option)
Adjustment : by 3 push buttons or H.H.T. (HART®)
Power supply : 12 to 36 Vdc (Exi: 13-26,5 Vdc)
Electrical connection : PG9, 1/2´´ NPT or M20
External load : 600 Ohm/24V to 1400 Ohm/40Vdc
Protection grade : IP68 (cable/SS tube) 
IP66 (electr. housing)
Process temperature : – -10°C to +70°C
Temperature sensitivity : ±0,015% / K
Electronic housing : AISI 304
Wetted parts : AISI 316 (standard)
Material cable : Polyethylene 
(option: Hytrell or PTFE)