The Ultrasonic Point Level System 160 Series is an ideal solution for detecting
liquid in compact spaces. With integrated electronics it is a direct replacement
for Float Switches, Capacitance and Optical Detectors.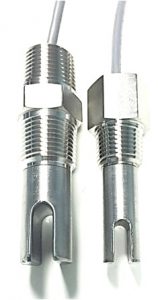 Operating Principle:
Point Level Switch
Features:
The PLS 160 detects liquid regardless of any change in density, color, dielectric constant, or viscosity. The PLS 1600 does not require calibration or periodic maintenance. The sensor is constructed in 316 SS and is available in lengths of up to 99". HiTECH can provide the PLS 160 in a variety of engineered plastics to obtain the ideal corrosion resistance in process vessels.
Specification:
Repeatability: 2mm or better.
Delay (on): 0.5 seconds Standard.
Probe material: 316SS Standard.
Optional material available.
Actuation point: 1.25" Standard.
Up to 99" available.
Sensor Temperature: -0° to 100°C
Sensor Pressure: 500 PSIG 316LSS.
Liquid viscosity : From 1 to 50,000 cps
Flanges mounting available.
Process connection: 1/2″ & 3/4″ NPT Standard
Electronic mounting : Integral