The Ultrasonic Point Level System 262 Series is an ideal solution for controlling the
level of liquid between two points in storage vessels and tanks. With integrated
electronics it is a designed for almost any liquid level application.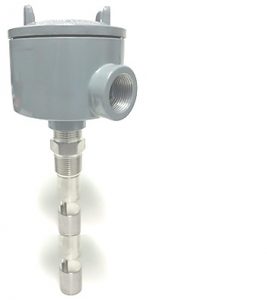 Operating Principle:
Point Level Switch
Features:
The probe is
constructed in 316LSS material. The electronic module is captured in a plastic
cassette and is mounted in a NEMA 4/ 7 explosion proof housing. No calibration
for the system is required. An LED indicator on the electronic module offers a
visual status of the system.With a control Auto Fill or Empty relay, Field selectable
Fail safe allows for the relays to be energized on power up or in normal condition
to de-energized when liquid is present. A Demand Push button self-test feature on
the electronic module assures the user the system is functioning correctly. A 0.5
second delay is added from WET to DRY to avoid false trip due to wave action.
Application:
High Level / Overflow Alarm
Low Level / Pump Protection
Condensate Pots
Sump Water / Oil Detection
Lubricant Circulation Equipment
Fill Machine Level Control
Pump Leak Detection
Specification:
Repeatability: 2mm or better.
Delay (on): 0.5 seconds Standard.
Probe material: 316SS Standard.
Optional material available.
Actuation point: 1.0" Standard.
Minumum distance between points 2.5″.
Sensor Temperature: -20° to 150°C
Sensor Pressure: 1000 PSIG 316LSS.
Liquid viscosity : From 1 to 75,000 cps
Process connection: ¾" NPT Standard
Flanges mounting available.
Input options: 24VDC, 90 to 240VAC,
Output Options: 2 X 10A SPDT,
Auto Fill/ Empty Control
Push Button Demand Self-Test
Field Select Fail-Safe Option
LED Output Indicator
Electronic mounting : Integral or Remote
Enclosure: Nema 4 / 7
CSA Approval (pending) Explosion Proof
Class I Group CD
Class II Group EFG
Class III Type 4. EP. IP 65.