** PRODUCT HAS BEEN DISCONTINUED. CALL FOR A NEW RECOMMENDATION!**
HiTECH's low-cost, GP-2000 GOOP-PROOF™ radio frequency (RF) point level switch, designated the Model GP-2000, operates on a wide range of liquids, slurries and solid materials. Its Goop-Proof circuit design allows the GP-2000 to Ignore goopy build-up of any type on the sensing probe. Operating on the RF Impedance sensing principle, HiTECH's GP-2000 will detect the presence (high level) or absence (low level) of virtually any material in any type of bin or tank. It may be made Fail-Safe In either high or low mode. The GP-2000 will operate In conjunction with process materials which range from low dielectric products such as refined oils to conductive slurries. The GP-2000 is used in conjunction with a HiTECH GOOP-PROOF™ sensing probe. They are typically constructed from Teflon and 316 Stainless Steel and can function with high temperatures and pressures as well as being compatible with corrosive process materials.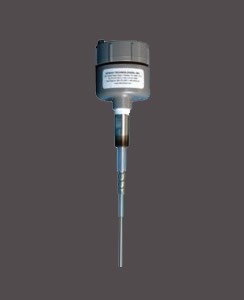 Operating Principle:
RF Goop-Proof
Features:
Economical – Low Cost
GOOP-PROOF

™

 Technology
Reliable and Easy to Use
Self-Connecting Probe
Adjustable Time Delay
Two-Color Status Indicator
Application:
Slurries
Liquids
Powders
Granulars
Specification:
TYPE: Point level (on/off), radio frequency (RF), Impedance sensing
SENSITIVITY: Senses capacitance changes as low as 0.5 pF Materials with dielectric constants as low as 1.5 Sensitivity can be decreased to 500 pF
AMBIENT TEMPERATURE RANGE: -40 to +1500 F
TEMPERATURE STABILITY: Temperature coefficient of 0.025 pF/ F
RELAY CONTACTS: Two sets of form C (DPDT) contacts, 10 A 115 VAC or 26 VDC, resistive load
TIME DELAY: Field adjustable 0 to 30 second delay
FAIL-SAFE MODE: Field selectable – High or Low level
POWER REQUIREMENTS: GP-2000 95 to 135 VAC, 50/60 Hz, 3 Watts. GP-2000-24VDC 24VDC 20%, 1 Watt
ELECTRONIC HOUSING: Heavy-duty Cast Aluminum Explosion-proof Housing Class 1, Division 1, Group D; Class II, Groups E, F, & G.